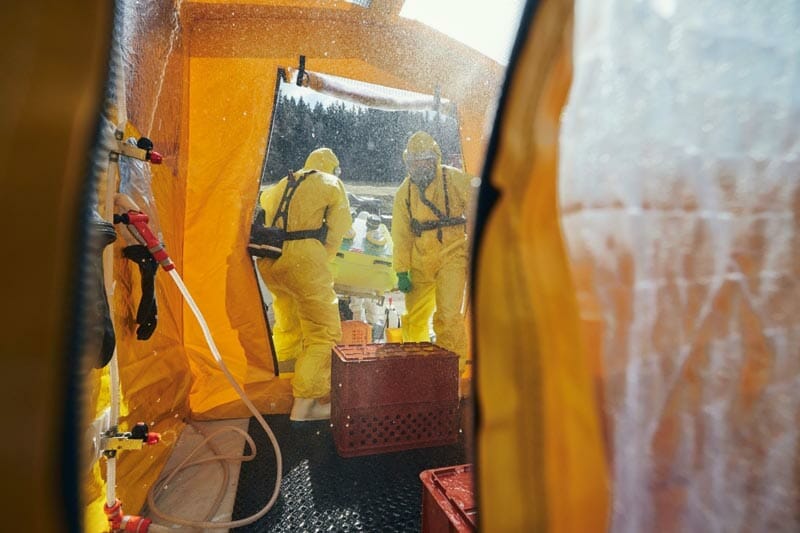 For many cleanup tasks, it's often wise to opt for professional hazmat cleaning services. While some cleanups can be handled by maid services or even by homeowners, there are times when hiring a pro is the best and safest option. At August Bio-One®, we can provide you with many different types of hazmat cleanup.
What Is A Hazmat Cleanup?
We are called in to provide hazmat cleaning services for a wide range of situations. For instance, we often provide crime scene cleanup, suicide cleanup services or unattended death cleanup services. When these types of traumatic events occur it's important the any blood and bodily fluids are completely removed, and that we clean and disinfect any contaminated surfaces.
In some cases, we will need to dispose of carpeting and carpet pads, mattress and even remove drywall to ensure that all biohazardous materials are removed. Of course, we always do our best to preserve any personal items when possible.
While removing blood borne pathogens and other potentially infectious materials is a common task for a hazmat cleaning company, we also are sometimes called in to clean up chemical contaminants, such as tear gas, or chemical spills. Tear gas (and many other chemicals) cannot simply be cleaned up with water or typical cleaning products.
Additionally, we often are called in to provide professional odor removal services or even rodent dropping cleanup or dead animal removal. There are many odors that simply cannot be removed using typical cleaning methods, so it can be wise to contact a professional for severe odor issues.
In general, none of these cleanup tasks should be handled by homeowners or landlords or a typical maid service. For professional biohazard cleanup services, we use special OSHA-approve cleaners and cleaning methods, and our crew also wears personal protective equipment to ensure safety.
Additionally, while it's not safe for family or landlords to try and clean up potentially hazardous materials, it's also can take a huge toll on your mental health. We often are called in to handle trauma cleanup after horrible tragedies have occurred and loved ones (and even landlords) should not have to handle these types of tasks. It's important to note that we can provide hazmat cleaning services at just about any location, including residences and commercial properties, inside or outside. We also can provide hazmat cleanup for vehicles. Whether a tragedy has occurred or perhaps you need odor removal services after an animal dies in your car (this is quite common), we can help.
Hoarding cleaning services are a unique type of hazmat clean up. This process can take longer to handle, depending on the size of the property and the scope of the hoarding situation.
Hoarder cleaning services require a team that not only understands how to provide complete biohazard remediation, but also a team that understands that this is a highly emotional situation. We will work with your family and provide compassionate, caring cleanup services and do our best to preserve any important personal items, if possible.
We know it can be difficult for a person to come to terms with their hoarding disorder and we have handled many of these cleanup jobs. It's tough, but once we've restored order and disinfected the dwelling, it can make it much easier for a person to recover from this mental health issue.
Of course, safety is the most important factor, and our biohazard cleaning crews ensure that all contaminants are removed, including dead animals, rodent droppings, mold, mildew and any other hazardous materials.
Homeless Encampment Cleanup
This is another unique situation that necessitates a high level of expertise and compassion. Homeless encampments often require everything from feces and urine cleanup to needle and narcotics removal. Our goal is to ensure that the community's safety needs are met, but we also want to treat these unsheltered people with as much dignity as possible and handle their belongings with care.
Types Of Equipment We Use
Depending on the situation, our crew has a myriad of personal protective equipment and cleaning equipment at their disposal. This includes protective suits and non-porous gloves, chemical-resistant boots and respirators or N95 masks, depending on the situation.
We also use special types of solvents and special containers and bags created to safely store biohazard materials. Other equipment we can use includes special brushes that can access hard-to-reach locations, fogging machines to aid with odor removal and equipment to help us remove carpeting and flooring. We also take pictures of the area before and after the cleanup is complete as this will be needed by the insurance company.
We Work With Insurance Companies
When a tragedy occurs, the last thing family members need to handle is wrangling with an insurance company. We know that you have enough on your mind, and we will handle the interaction with your insurance company. We work with most major carriers and can open the claim and work directly with the adjusters.
Contact Bio-One® Anytime!
At Augusta Bio-One® we are available to provide hazmat cleaning services at anytime night or day. You can call us 24/7 and 365 days a year at (706) 305-5029, and we will provide you with fast, comprehensive and compassionate biohazard cleaning services.