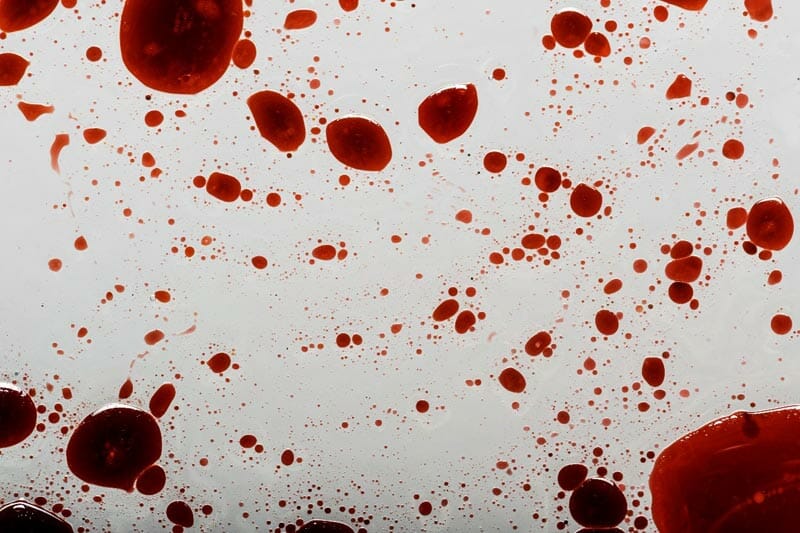 If you've suffered a trauma at your home or business, we know that dealing with the aftermath as well as the emotional impact of the situation can be difficult. Professional trauma cleanup services can eliminate the burden and stress of cleanup and ensure that any biohazardous material is removed.
While you shouldn't have to deal with the stress of cleaning up after a tragedy, the truth is that it's also simply unsafe to handle these tasks yourself. Likewise, a typical cleaning service or maid service also is not qualified to handle most types of trauma cleanup. Here's why it's best to hire professionals for any type of trauma scene cleaning.
Potential Health Risks
Whether a crime has occurred or there's been a tragedy such as a suicide or perhaps the discovery of an unattended death, handling the aftermath of these situations should be handled by a professional trauma cleanup crew as these experts use special OSHA-approved cleaners and wear protective equipment.
Bodily fluids can contain viruses, bacteria and other toxins therefore coming into contact with these fluids can be dangerous. For instance, the hepatitis B virus can survive outside of a body for up to 7 days, and the hepatitis C virus can survive for several weeks. These viruses are transmitted through blood and other fluids.
Regular cleaners also typically aren't strong enough to remove all traces of these viruses and other bloodborne pathogens. Additionally, blood may have soaked through walls or carpeting or saturated furniture.
Our job is to assess the situation carefully and ensure that all traces of bodily fluids are removed from a trauma scene. Cleaning and disinfecting are just part of our job, and we often must remove carpeting, flooring, furnishings, clothing, drapery, drywall and other items that cannot be remediated and salvaged. We always do our best to save items if we can, but, in some cases, items will need to be disposed of for safety.
The Emotional Impact
With many types of trauma, including homicides, suicide and unattended death, family and friends shouldn't have to handle these trauma cleaning tasks. While safety is certainly a huge factor, no one should have to clean up after a loved one has died. Even if you are a business owner or tenant and not a close friend or family member, you still may be suffering because of this trauma.
It's far better to hire a team of trained professionals and at Bio-One®, we offer compassionate and discrete trauma cleanup services. We fully understand the emotional toll these situations can take, and we do our best to clean up the affected areas quickly and efficiently of your home or office.
We Handle Insurance Issues
In many cases, trauma scene cleanup services and biohazard remediation are covered by business or homeowner insurance policies. We know that this is a difficult time and that dealing with insurance companies can be overwhelming. Bio-One® of Augusta can open the claim for you and we will work directly with the claim adjusters.
The Legal Aspect
For landlords and business owners, failure to properly handle biohazard cleanup can pose legal risks. For the sake of your business, your tenants and your own peace of mind, it's best to hire a professional trauma cleanup service for any type of biohazard cleanup. We follow all OSHA standards so you can rest assured that your property will be fully cleaned and disinfectd, and all biohazards will be removed.
Hazardous Materials & Tear Gas Cleanup
In addition to trauma cleaning, the Bio-One® team can help with all types of biohazard remediation. This includes cleaning and restoration after an incident that involved the use of tear gas canisters. Tear gas can't simply be cleaned up with soap and water. In fact, water reactivates the chemicals in tear gas. Protective gear and special cleaners must be used for this cleanup task.
Once the law enforcement officers have cleared the area and a trauma or crime scene investigation is complete, we can come in and provide complete cleaning and restoration services. We also can provide cleanup and remediation for many other types of hazardous materials.
Of course, not all trauma scenes occur inside a house or building, and we can provide crime scene cleanup and trauma scene cleanup when the incident has occurred outside. We also can provide you with comprehensive trauma cleanup services if a vehicle has been the site of a death or another type of trauma.
Hoarder cleaning services are one of our areas of specialization. This usually involves biohazard remediation such as removing rodent droppings and animal urine and feces. These materials can be highly toxic, which is why it's best to hire a professional cleanup crew that specializes in hoarding situations.
Cleaning out a hoarding situation also is a highly emotional task, and it can be much easier and go much more smoothly when professionals manage these jobs rather than family. Not only can we help remediate a hoarding situation, but we also provide support and compassionate services during this time of need.
Call Bio-One® Anytime!
If you need any type of trauma cleanup services, please contact Bio-One® of Augusta at any time. We are available 24/7 and 365 days a year, and in addition to Augusta, we can provide all types of trauma and crime scene cleanup in Aiken, Barnwell, Edgefield, Jefferson, McDuffie, Richmond and Waynesboro counties.
---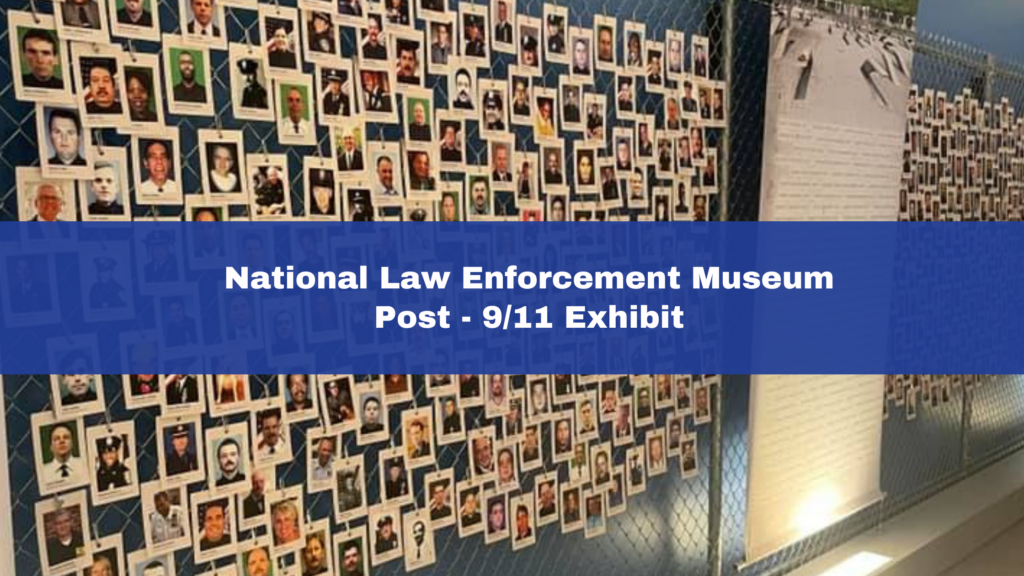 Having been closed due to the pandemic, the National Law Enforcement Museum and Memorial (NLEMM) re-opened with the new Post-9/11 Exhibit: The Evolution of American Law Enforcement. On August 26, Bio-One was invited to a private opening reception to get a first-look and remember the brave men and women who ran toward danger 20 years ago.
As described on the NLEMM website, the Post-9/11 exhibit marks the 20th anniversary of 9/11 and honors the officers who rose to the challenge that day. This will be the first exhibition to focus on the significant changes to U.S. law enforcement that occurred in the aftermath of the 9/11 attacks.
One of the most impactful displays in the exhibit is a wall of photos depicting all the members of law enforcement who died as a result of 9/11. As described by Police1.com, 72 officers killed on September 11, as well as 236 officers who died of illnesses contracted while working in the hazardous conditions at the WTC.
There are 20+ artifacts on display that include airplane fragments from Flight 93, a steel beam from the World Trade Center, a limestone block from the damaged section of the Pentagon and part of the damaged food cart from Flight 93 when passenger Todd Beamer famously said, "Are you ready? OK. Let's roll." (Police1.com)
Bio-One is a proud 2021 corporate partner of the museum. To learn more about the exhibit and how you can help preserve the history of law enforcement, visit NLEOMF.org.
---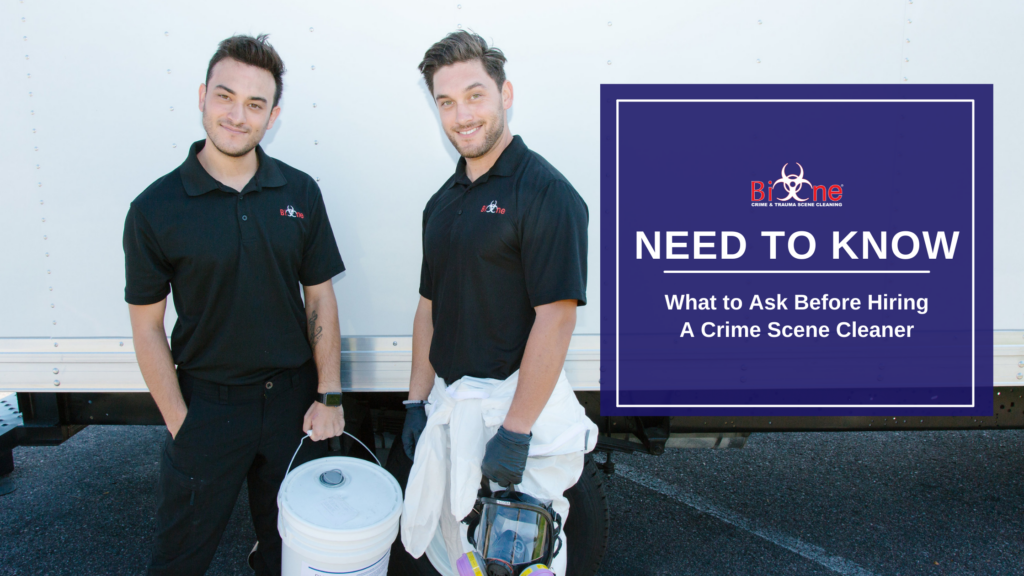 The roots of crime- and trauma-scene cleaning companies can be traced to the 1990s, and at that time only a dozen or so companies existed. The industry was widely unregulated and awareness of contamination risks were relatively non-existant.
"I was young and dumb and saw something you only see in movies, so I quickly shut the door, took a deep breath, sat on the couch with the widow and told everyone else to get her out of here and take her to lunch, and we'll clean this up for her," said Nick-Anthony Zamucen, Founder of Bio-One Inc. "We were just trying to help a lady in her greatest time of need, and that's for me how I got into the crime scene and cleaning business." Read Nick's story in Franchise Times.
Today, there are hundreds of companies that advertise crime and trauma scene cleaning, and a simple Google search may prove overwhelming when you're experiencing one of the most traumatic moments in your life. To help, we've listed pre-qualifying questions to ask before choosing a crime and trauma scene company.
Questions to Ask Before Hiring a Crime and Trauma Scene Cleaner
There are a number of key questions to ask crime and trauma scene cleaning technicians or business owners to properly root out which one is best for your goals and circumstances.
Are you local? When there's a blood spill, response time is key to prevent biohazards from spreading and to ensure quick remediation. Several businesses may pay for online advertising in your city, but their technicians could be 3 or more hours away. Furthermore, avoid calling toll free numbers. "These numbers often lead to call centers. We're local. They're not," said Ginger Akemon, owner of Bio-One in Jacksonville, FL.
Is your business certified and insured? Professional crime and trauma scene cleaning companies should have bloodborne pathogen certifications, they should follow OSHA personal protective equipment (PPE) guidelines and remediation processes, and they should have insurance for their business.
What is your process for disposing biohazardous waste? Once the remediation is complete, the accumulated waste will need to be disposed in accordance to local state guidelines. Make sure the business owner or technician is aware of these guidelines and has an appropriate plan for disposal.
What happens to valuable or personal items that are impacted? At Bio-One, we are trained to be mindful of valuable and perceived valuable items, such as pictures, wallets, or a baseball card collection. Professional crime and trauma scene cleaners should ask if there are valuable items to keep an eye out for, and they will keep the family informed if these items are found.
How will you charge for your services? In most cases, home insurance will cover the cost of biohazard remediation - less your deductible. Ask if they can open a claim on your behalf, taking this burden off your shoulders. If you don't have homeowners insurance, it's OK to ask for a free estimate so you can compare costs between other local companies.
Will you be discrete during and after the job? Michele Amoranto, Bio-One owner in Oceanside, CA, always assures her clients that discretion is top of mind while her team is onsite. Bio-One vehicles are unmarked and technicians will designate work areas to don and doff PPE out of view from neighbors.
Do you have a list of resources that can help after the cleanup? You may need flooring replaced or fresh drywall installed, which will also be covered under your home insurance claim, and a recommendation could help speed up the reconstruction process. Additionally, many crime and trauma scene cleaners have connections with local counselors and victim's advocates. In west Texas, Bio-One owner, Garrett Spooner, always offers a list of free mental health resources and states that, "Being volunteers of our local Crisis Intervention Unit, we consider our job incomplete without making sure our clients' mental health, grief process, and other issues our clients may have, are addressed."
Last but certainly most important, make sure the business you speak with shows care and compassion for your situation. They should want to do everything possible to support you and your loved ones.
If you are searching for a crime and trauma scene cleaner, Bio-One is here for you. All of our offices adhere to our business motto Help First, Business Second and are available 24/7. Click here to search for a Bio-One team near you.
Rebecca Wallace, Bio-One owner, recently visited with Arizona Midday to share how the Bio-One team makes a difference on and off the job in Arizona and throughout the United States.
Arizona Midday - "Well we've got some help for your home right now. If you're feeling overwhelmed by a clean-up project, we've got help for you today. Rebecca Wallace is with Bio-One. Hi Rebecca. What is Bio-One?"
Rebecca - "So Bio-One is known for crime and trauma scene clean-up. However, we do a lot more than just that. We help people when there is a hoarding situation, so that they can regain their home and their lives again. We help with infectious disease decontamination, rodent droppings, odor abatement, basically if you think you might need a respirator to do the job we're the people you want to call."
Arizona Midday - "Wow, that's incredible. It's stuff we don't want to do. What made you decide to get into this line of work?"
Rebecca - "So, me and my husband live in Flagstaff most of the time and we were talking with some first responders and heard how when people pass away or they're hoarders there is no one that can help them. There's just no one who does this kind of work. So we decided we want to be able to help our community, help those around us during a time of need so they can actually move forward in their lives and not have to deal with the mess of maybe things that have happened that they don't want to have to think about."
Arizona Midday - "I love that idea. So in order to help your clients as much as possible, do you work with other companies? Tell me about that if you do."
Rebecca - "Yes, we do. We work with quite a few other companies, because what we do is just a piece of a whole puzzle. So we work with a lot of restoration companies, Best Option Restoration, they are state-wide like us so they can help us anywhere as well. We work with animal rescues, so if there is a hoarding situation that animals are involved in we can get the animals out safely and get them rehabilitated. We work with quite a few non-profits that help first responders if they're in a time of need or crisis. It's across the board. We work with all kinds of different people. Contractors. Mental health professionals. Anyone that can be a piece of that puzzle with us, we want to work with them.
Arizona Midday - "Oh, I love that. So what areas of Arizona does Bio-One cover?"
Rebecca - "We have offices all the way down from Tucson up to Flagstaff, and everything in-between. Our goal is to be able to help our clients within 90 minutes or less if there is an emergency. So we have offices everywhere. Any we're national. We have 120 offices throughout the US as well.
Arizona Midday - "Wow. That's incredible. So you work with businesses. You work with non-profits, but you're also really involved in the community too, right? Tell me about that."
Rebecca - "Yeah we are. It's important for us to give back. Our community is important. We live here. We're part of it. So in 2020 alone, we gave out over 25,000 bottles of chemicals that are approved by the EPA for COVID-19 decontamination. We have blood drives all throughout Arizona to help with the blood shortage. We donate PPE to first responders and victim advocates. And we have BBQ's throughout the state as well for all of our first responders just to tell them thank you for what they've been doing. They work hard and we want to make sure that they know we care.
Arizona Midday - "Rebecca Wallace, incredible work that you're doing with Bio-One. And thank you so much for spending time with us today.
Rebecca - "Thank you for having me."